Building a Hunting Rifle for Small Game
Selecting your small game Cartridge
Every hunter should have at least one rimfire rifle in their collection. Why, you ask? Mostly because they're fun and cheap to shoot, but rimfire's are also accurate and deadly when applied to the correct application. What's not to like?
I learnt to shoot with my fathers BRNO .22 rifle topped with a Tasco 6×42 scope. It's a beauty, it still shoots down the same hole at 100m and it's how I developed my love for rifles and hunting. It goes without saying the same rifle and optic hold that special spot in the gun safe.
Seasoned hunters would agree the .22LR is king of the rimfires and undoubtedly most Aussie hunters have started their journey with one. Although the good old .22 hunting rifle covers almost all you could ask out of this class, you shouldn't discount other rimfire cartridges when making your selection. For some basic info that may aid in your rimfire selection have a squiz at our article on Basic Cartridge Selection. In my opinion a good hunter will always ensure they shoulder enough firepower to humanely dispatch the chosen quarry.
Now that you have selected a rimfire cartridge, its time to pin-drop into the pool of rifle brands available to the Aussie Hunter, or more importantly, what brands should you be taking into consideration. If a rifle has made its way to the shooters hands standing in shop then its likely going to be fit for purpose and shoot relatively well. But what about the other stuff? In my experience the "Other Stuff" generally speaking is how quality in a firearm is measured. These things include, but are not limited to:
Weight distribution
Scope mounting system
Bolt and receiver construction and how well/smooth it cycles.
Barrel material (Blued or Stainless)
Trigger adjustability and crispness
Stock material
Of course there are exceptions to the above, and there will undoubtedly be some hate mail coming my way, however in my experience most rifles in todays market (fed with the correct ammunition) are very capable shooters. 
Now unless you have a class C license or live in the land of the free and home of the brave (USA), then you will be restricted to a bolt action, straight pull or lever action rimfire like the rest of us plebs. In my opinion this isn't necessarily a bad thing, as you learn to value your first shot, although, if your like me it would be nice to let the finger slip on the odd occasion. As the bolt action is the imperial standard for accuracy, the article will focus on them for now (stay tuned).
So what do you take into account when selecting a good bolt action?
I've compiled a list of things I believe make a good Bolt Action: 
Reliable round feed
Short action stoke
Smooth bolt travel
Consistent feel
Solid safety mechanism/operation
This is where I tell you that its your rifle/action and what feels right to you might not feel right to me, or the next shooter. Put it like buying a car, you might like one model and I might think it's shit, this doesn't mean it's a shit car. A rifle is a very personal item I would encourage you to feel and work the action before making your decision, don't just take your mates word for it.
If you want to learn more about Bolt Actions, stay tuned as we will be doing a new article on bolt action rifles soon.
Barrel contour or profile
So what is a barrel? In short, its a cylindrical piece of steel with hole bored through the middle. Some factors to be taken into consideration.
The heavier the barrel the more repeatable/accurate the shot. The same with barrel flexibility. While it may seem that a stiffer barrel may be more accurate, the opposite is actually true.  For more on this please see our article here on barrel harmonics.
Accuracy is also decreased with increase in barrel heat. While fluting ultimately helps cool the barrel, it is not before accuracy is diminished markedly.
Length can be important too. While it can affect accuracy, for hunting it is more important from a weight and usability standpoint.
It comes down to what you will be using your rifle for, obviously a lighter barreled rifle for carrying around is optimal, however a match rifle that's going to be transported from safe to car to bench, back to car to safe, can weigh whatever you want it to.
Most would agree that a nicely grained walnut stock is a pleasure to look at, but is it the most practical option for you? If your going to rock it to sleep, pull it out to impress and pass it down through the generations, then maybe it is for you.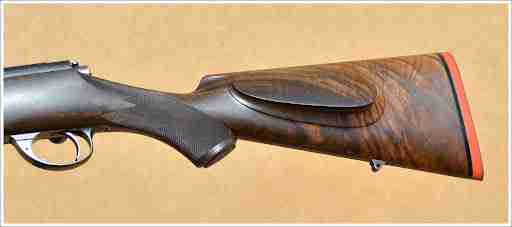 The position of durability when it comes to rifle stocks belongs to those made from synthetic materials. There is an array of man made materials and construction styles used for stocks. You will find carbon fiber, fiberglass, fiberglass wrapped aluminum, nylon, polymer plastics, and polymers with over-molded rubber. There are also aluminum chassis/stocks designed and made specifically for tactical/target applications.
With the minimal recoil of rimfire cartridges, stock selection is not as vital as it would be with centerfire selections, however it does play an important part, things you dont want to skimp on:
Make sure the barrel is free floating from the stock.
Ensure you can't bend the stock with your hands.
You need to like the feel and shape, again it's personal.
Ensure you understand the weight of the stock if you would like a light package
Dropping into the zone of a new rifle scope if your unsure of what your looking at, is like being dropped into 12th grade advanced math in year 8 and expected to understand what the f#@k is going on. I will attempt to simplify it for you. But if you are interested in learning more about optics please click on the banner below.
Knowledge Base
The Technical Stuff
When looking for a rimfire scope for hunting, keep it simple! You will see so many company's out there trying to sell you a ballistic drop reticle for your rimfire. Sure they work sometimes, but if your not using a bullet that agrees with the velocity and projectile drop associated with the reticle, or your scope is on the wrong magnification you may as well not bother. 
If you want optic quality buy European, its as simple as that, Europeans just make better glass, getting into one of these will usually set you back $700+(AUD). If you want something reliable with good glass quality and a decent warranty your going to be spending $350 to $600 (AUD) and if you want something that might last the car ride home buy below $200 (AUD). The old saying that you should be paying more for your scope than your rifle is not far from the truth, unless your buying a rimfire over $1.5K.
The magnification sweet spot for a rimfire rifle scope is around 3-9 x 40 with a 1 inch tube, you could also look at any fixed or variable under this magnification without any issue. Feel free to look at more magnification if you are plinking. On a hunting rifle, in my opinion, you will be wasting your money. 
I have provided a few solid options below from Vortex and Leopold. The Vortex Crossfire is the lower optic quality of the three, with the Leupold VX sitting at the top. The Vortex Diamondback in my opinion represents best value for your rimfire out of this selection.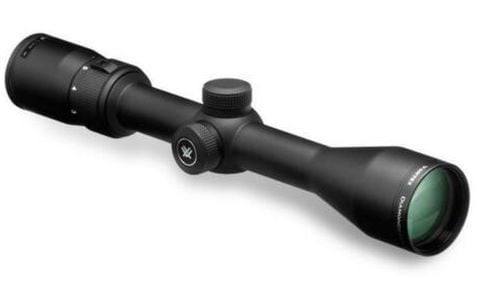 Vortex Diamondback
3-9x40 V-Plex Reticle DBK-M-01P
Unlimited Lifetime Warranty

for better light transmission

Good optic quality for price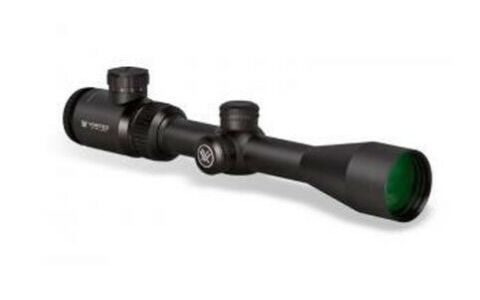 Vortex Crossfire II
3-9x40 Rifle Scope V-Brite Illuminated Reticle
Lifetime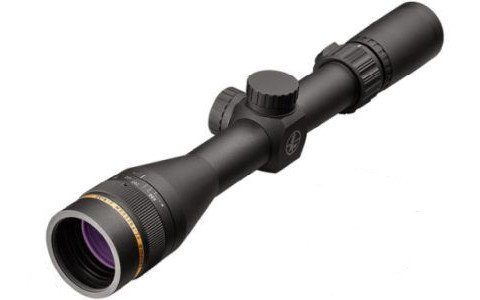 Leupold VX-Freedom
3-9x33 Fine Duplex Reticle
Lifetime

Fantastic Optical Performance

Leupold Lifetime Guarantee
Now you have selected your optic you will need something to hold that tube filled with glass on the top of your new rifle. Most rimfire rifles will have a reviver that will take an American 3/8 dovetail or a European 11mm dovetail, some rimfire rings are cross compatible across both of these receivers. 3/8 Inch is measured across the bottom of the dovetail whereas the 11 mm is measured across the top of the dovetail. A 3/8 Inch dovetail is about 12.7 mm across the top. The measurements 3/8 and 11mm are not the same for this reason plus the angles are different.
Due to the low recoil of rimfire rifles and to keep weight to a minimum, most rimfire scope rings are made from aluminum. If you are shooting match or going to use your hunting rifle as a workhorse I would recommend you "treat yourself" so to speak and splash out on a set of steel rings, sure they add weight but they are far less prone to letting the team down (losing zero) when your rifle takes a love tap or knock. 
Just make sure you take into account your scopes objective lens size (larger the higher) and barrel profile (heavier the higher) when selecting what height rings you will need (Low, Medium or High).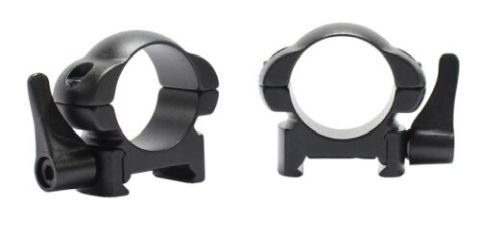 Pecar Steel Scope Rings
1 Inch 3/8 Dovetail Low, Medium and High
 (all profiles)
Hawke Tactical Mounts
1" 2pc 9-11mm Dovetail HIGH