Scopes or Telescopic sight is an optical sighting device that is based on the refraction of light. Ideal for long-range shooting. The magnification of the optics make it easy to pick and line up your target. The reticle gives you accurate aiming points in any lighting condition, making this device one of the most popular sights on rifles today!
Most common today is the ability to combine the optics with electronics to enable the scope to be useful in low light and night conditions.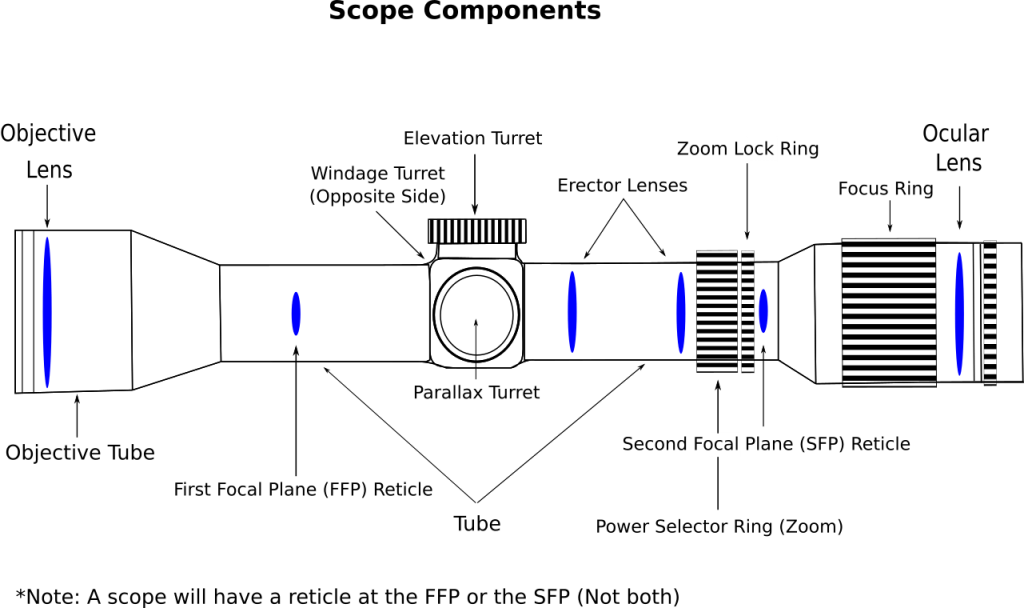 Refracting Telescope
The first known practical refracting telescope was invented in the Netherlands in 1608, and it was used for both terrestrial and astronomical observations.
A spiders web
While experimenting with lenses, William Gascoigne, an English amateur astronomer, discovered that a spider's web spun at a precise point between two lenses in his telescope allowed him to align the instrument with greater precision. 
A Telescope Mounted on a Firearm
Experiments by a number of people were conducted on how to mount a telescope to a rifle.
The first documented telescopic sight
American gunsmith Morgan James with direction from John R. Chapman produced the Chapman-James telescopic sight. The sturdy construction of these sights meant the sighting remained true even after a number of shots. It is therefore widely regarded as the first practical telescopic sight.
Achromatic Lenses
William Malcolm, an American optician produced his own sight using Achromatic lenses and improved elevation and windage adjustments.
Refracting Telescopics
An Austrian, August Fiedler produced one of the early versions of refracting telescopic sights that was actually practical to use.
Scopes are classified as:
"Power or Optical Magnification"   X    "Objective Lens Diameter"
For example a scope described as:
"6×40" = a magnification of 6× and an Objective Lens of 40mm.
"6-10×50" = a variable magnification of 6× to 10× and an Objective Lens of 50mm.
More on Objective Lenses here:
Photo Credits:  Kyler Boone | Unsplash